WordPress released Gutenberg, their new content editor, in December of 2018. If you haven't read up on this, check out our post on it's launch.
A new Gutenberg update will be released with Wordpress 5.3 on November 12th of this year, but a beta version has been made available for us to try now. To save you the time and headache of testing the new features out, we did it for you.
Gutenberg promises to be the editor of your dreams, using a content-based page builder. While it's miles ahead of the classic WordPress editor, Gutenberg has an average star rating of 2 out of 5. Let's hope the update fairs better.
If you're looking to migrate your custom-built website to Gutenberg for more control over your content management, read on as we walk you through the pros and cons of making the switch.
TL;DR
It's still early days for Gutenberg, so we should treat it as such. While they've made some good improvements in this new version, the content editor still doesn't stack up to the plugins we often use to build our client's websites (ie. Advanced Custom Fields).
Migrating a website to Gutenberg takes a considerable amount of developer hours and can really eat at a website development budget. There are many areas where work has to be doubled. To name a few: re-writing the entire codebase and updating the Cascading Style Sheets (CSS) for both the front-end and back-end every time you want a design change.
If you're building a new website and starting with Gutenberg, you may be in better shape. Developers can write in the coding language compatible with Gutenberg from the get go. This will save you time and money, but don't expect to get the same kind of results you could achieve with a custom-developed website. Gutenberg is just not quite there yet.
The Features: Pros & Cons
Adding Custom Blocks on the Fly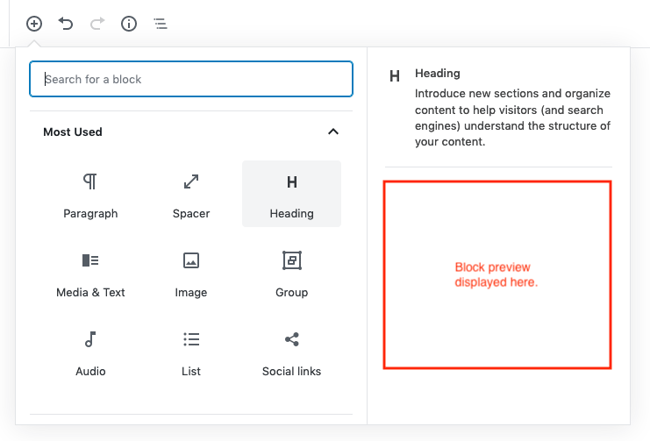 Source: Github
Pro: A significant draw to Gutenberg is the ability to add custom blocks whenever and however you want. The drag and drop editor makes building a website as easy-to-use as Squarespace or Wix. The new release even features a preview when you hover over the block, so you can see what adding that block would look like on your website.
Con: The editor has yet to be confirmed to work with complex blocks, which presents a layer of limitation to what you can do with the function and visuals of your website. This could mean that your website doesn't quite match your brand, or that special feature you were hoping for isn't possible.
Coding Language Differences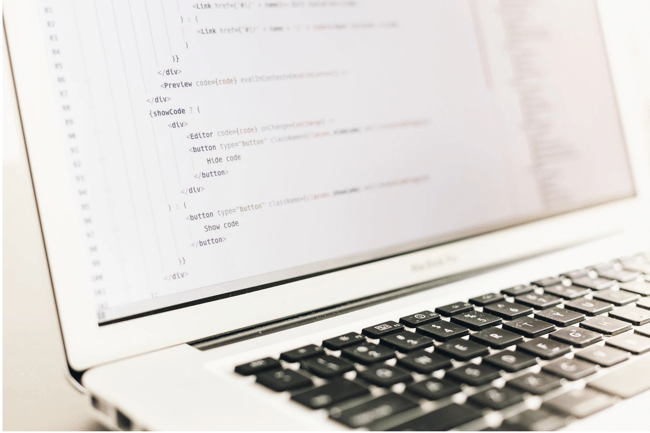 Pro: Gutenberg uses a completely different coding language than the classic editor. Gutenberg primarily uses Javascript, one of the most widely used scripting languages in the world. Some argue that it is the future of development. The truth is, the best websites out there are coded in both JavaScript and PHP together.
Con: All WordPress websites built prior to the Gutenberg release were written in primarily PHP. Migrating an existing custom site almost means building a new one from scratch. It would be like trying to convert a brick house into a wood cabin. It's doable, but not simple or cost-effective.
Many of the plugins required to be used in conjunction with Gutenberg to create a unique website experience are written in PHP and haven't yet been updated to JavaScript to work with Gutenberg. This means many of the existing features on your website may not function as they should, or break completely.
Custom Styling for Content Blocks
Pro: The original Gutenberg release only allowed for one style to be applied to a custom content block. The new version features additional CSS classes for blocks. For example, a header block may have a larger font size on the homepage compared to other pages using the same content block. This enables developers to apply styles directly to the blocks, rather than creating rules in the code.
Con: Some Gutenberg blocks do not allow for precise control of layout structure. It would therefore require an update to the style rules, or even hinder the developer's ability to build the website accurate to the intended design. To date, you still can't assign a template to individual pages, which makes consistency across the website a difficult task.
Migrating Your Website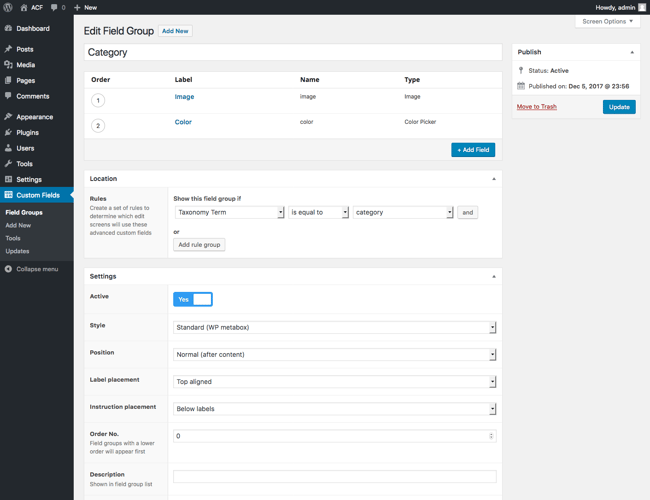 Source: Advanced Custom Fields
Pro: Gutenberg is now the default editor in WordPress, meaning developers of plugins have already caught up, or are still working on it. Making the switch could mean investing in the future before your website gets too big and costly to convert.
Con: We promised a pro and a con for each of these features, but we can't emphasize this enough. At this stage of Gutenberg's development, we do not recommend that anyone migrates their existing site. WordPress is learning as they go, so improvements will come over time. We recommend that you wait for Gutenberg to mature to at least the level of the existing popular content editor plugins before you spend any time and money.
A Word From WordPress
WordPress 5.3 Beta 1 is now available!
This software is still in development, so we don't recommend running it on a production site. Consider setting up a test site to play with the new version.
We're going to take their word for it. If you're really curious though, you can test out WordPress 5.3 Beta 1 for yourself on a staging site to see how your website translates to Gutenberg.
As always, we're here for you. If you have any questions or want to chat about whether your website is a candidate for migration to Gutenberg, give us a shout!